Associate Professor, Economics
Ph.D., University of Maryland, College Park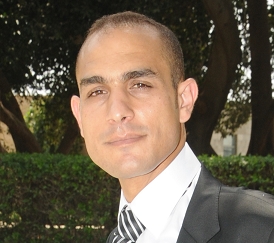 Email: salem.abozaid@umbc.edu
Office: Public Policy 328
Phone: 410-455-2498
Curriculum Vitae, Personal Website
Research Interests: Monetary Economics, Macroeconomics, Fiscal Policy, Labor-Macro.
---
Selected Publications
Inattention and the Impact of Monetary Policy. Journal of Applied Econometrics, 2023, Vol. 38, pp. 623-643. (with Zidong An and Xuguang Simon Sheng)
The Government Spending Multiplier in a Model with the Cost Channel. Macroeconomic Dynamics, 2022, Vol. 26, pp. 72-101.
A Fiscal Perspective on Nominal GDP Targeting. Economic Inquiry, 2021, Vol. 59, pp. 1641-1660. (With Huiying Chen and Ahmed Kamara)
Taxation, Credit Frictions and the Cyclical Behavior of the Labor Wedge. Empirical Economics, 2021, Vol. 60, pp. 1777-1816. 
Credit Constraints and the Government Spending Multiplier. Journal of Economic Dynamics and Control, 2020, Vol. 116, 103901. (With Ahmed Kamara)
Financing of Firms, Labor Reallocation and the Distributional Role of Monetary Policy. Scandinavian Journal of Economics, 2020, Vol. 122, pp. 790-823. (With Anastasia Zervou)
Credit Frictions and Optimal Labor-Income Taxation. Macroeconomic Dynamics, 2019, Vol. 23, 2845-2891.
Optimal Monetary Policy and Imperfect Financial Markets: A Case for Negative Nominal Interest Rates? Economic Inquiry, 2016, Vol. 54, pp. 215-228. (With Julio Garin)
Optimal Long-Run Inflation with Occasionally-Binding Financial Constraints. European Economic Review, 2015, Vol. 75, pp. 18-42.
Optimal Monetary Policy with the Cost Channel and Monopolistically-Competitive Banks.  Journal of Macroeconomics, 2015, Vol. 45, pp. 284-299.
Revisions to US Labor Market Data and the Public's Perception of the Economy. Economics Letters, 2014, Vol. 122 (2), pp. 119-124.
Optimal Monetary Policy and Downward Nominal Wage Rigidity in Frictional Labor Markets.  Journal of Economic Dynamics and Control, 2013, Vol. 37 (1), pp. 345-364.
On Credit Frictions as Labor-Income Taxation. Economics Letters, 2013, Vol. 118 (2), pp. 287-292.
Working Papers and Work in Progress
Labor Markets, Fiscal Policy and Inflation Dynamics: a Pandemic Perspective. (with Xuguang Simon Sheng)
On the Effectiveness of Fiscal Policy with Supply-Side Effects. (With Ahmed Kamara)
(For a complete list of publications, see Curriculum Vitae)