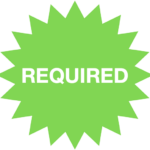 All students being advised for the Economics B.A. and Financial Economics B.S. are REQUIRED to complete and submit a Pre-Advising Form to their econ department or assigned faculty advisor prior to receiving clearance.  Procedures for submitting your form will be arranged by your advisor, e.g. via email or in-person.
Here's Why
Knowing the design of your major is important.  We believe any student advancing in the economics program at UMBC should have a thorough understanding of their major and how to proceed through it successfully.  Even better, by researching your own schedule, you'll gain a solid understanding of the university's requirements and GEPs.  With that in mind, you'll be better able to keep track of and prepare for what's coming next semester and, more importantly, what you need to graduate.
As a matter of UMBC policy and procedure, students are responsible for the management of their academic careers. They are expected to familiarize themselves with resources such as the Undergraduate Catalog and the degree audit, and to remain informed of all published policies, degree requirements and academic calendar dates. — Academic Standards, UMBC Registrar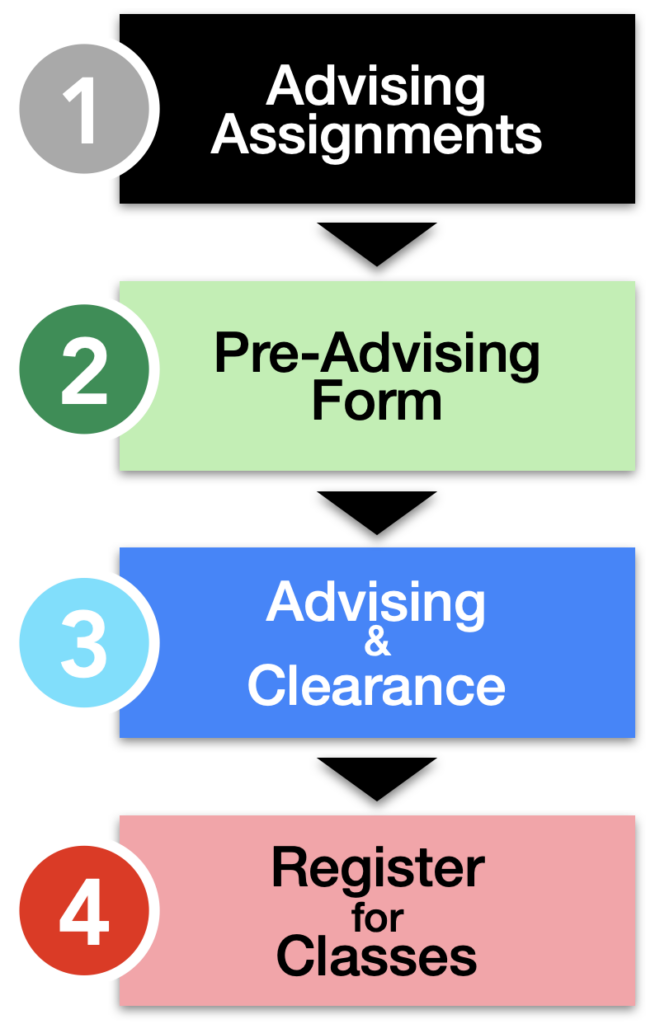 Check out the example below of what a properly completed pre-advising form for an FIEC major might look like – and a good example of how to mark and complete the form's required information.  Don't miss the further instructions below.
Sample Pre-Advising Form: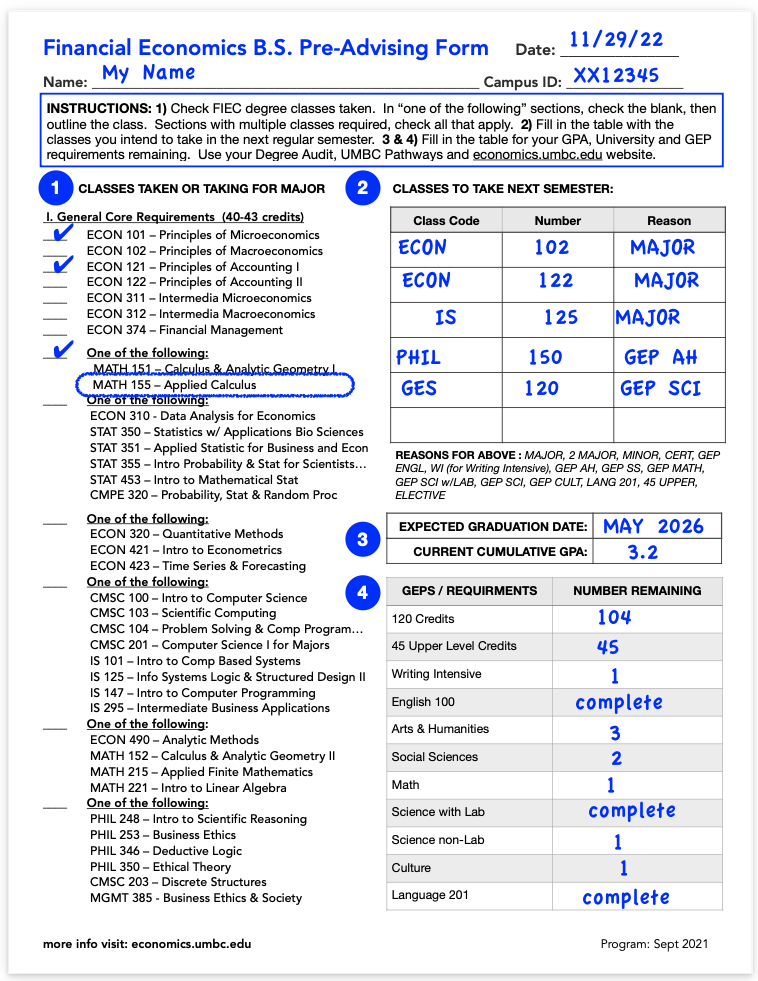 Working with the PDF Form
The PDF forms available above are designed to be downloaded, printed and filled out manually, then scanned and submitted to your assigned advisor.  Your advisor may ask you to print and bring the form in person or email it as a file attachment.
If you have intermediate or advanced knowledge in working with PDFs, you may complete the form digitally with any number of PDF apps, like Adobe Acrobat or Apple Preview which will allow you to overlay information in the areas you are required to complete.
Where Do You Get All of this Information?
The Pre-Advising Form

Note that your major is already laid out on the pre-advising form itself – the one you just downloaded above.  Required classes for your major, required major electives from groups of electives, required electives from outside of the econ department,  and other helpful information are right there.

Your Degree Audit

Your degree audit is a comprehensive collection of data on your requirements and progress toward your UMBC degree.  You can see the university requirements like overall credits and 45-upper level credits, GEP requirements like your Arts & Humanities, Science and LANG 201, to name a few, and your major – what you've taken and what you need to take – presents in the final section of your degree audit.
Here's how to find your Degree Audit:

Click Here

UMBC Pathways

A helpful site that gives you a

recommended

pathway through your major semester by semester.  When you arrive at the website, choose your major from the dropdown.  Classes listed by semester are simply a suggestion, but these are good suggestions!
Here's how to find the UMBC Pathways website: 

Click Here

The UMBC Undergraduate Catalogue

Use this to figure out which classes have prerequisites (classes you need before you can take certain classes) and other recommendation preparations.
Here's how to find the UMBC Undergraduate Catalogue: 

Click Here

Class Search

Once the next semester's catalogue is released, you can search classes and see similar information contained in the Undergraduate Catalogue.  More importantly, you can see what particular classes are offered next semester, when and where they take place, and who's teaching them.